Tryon Farm Events
We all have favorite ways to spend our time. Tryon provides a range of public opportunities throughout the year to experience modern country living though a variety of unique events. Activities appeal to all ages and interests. Get out here and enjoy yourself!
5k run/walk, 10k and 50k runs + Kids Race!
Tryon Farm Trail 5/10/50K Run
Saturday May 18, 2013
2012 PHOTOS || REGISTER HERE
Registration for the 2013 Tryon Farm Trail Run is now officially open at ULTRASIGNUP!. Every 50th signup gets a free entry!
This year's race on SATURDAY MAY 18th will be even bigger and better! We're adding many fun and exciting new details. We're happy to be part of the trail running boom that has many races this year selling out in a few days.
NEW THIS YEAR!
- First and foremost, more single track through the woods
- 5K Run/Walk added! Shake off winter and spend a spring morning outdoors with your friends!
- Pizza from the Rolling Stonebaker. Voted best pizza in Indiana by the Food Network!
- And, can you believe it? LOWER RACE FEES! 50K just $60, 10K only $25, and 5K a mere $20!

Sign up now! These prices will not last!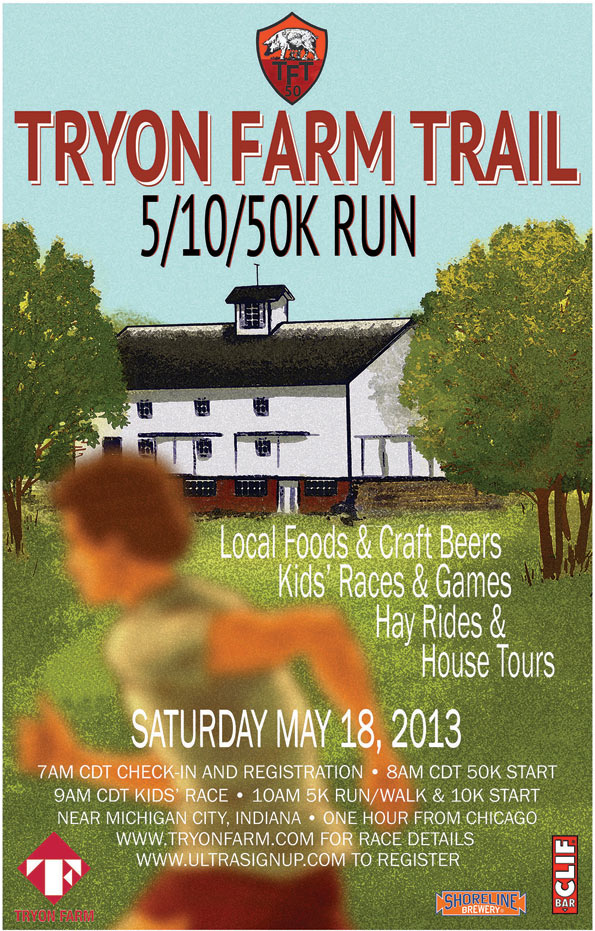 The TRYON FARM TRAIL 5/10/50K RUN is located in Northern Indiana, just one hour from Chicago.
The course is a 10k loop through majestic grasslands, sloping dunes and towering beech and oakwood forests. Approximately 60% of the course is on densely wooded single track that follows existing deer paths. The remainder of the trail brings you through protected native grasslands of prairies and hayfields. At one point, the course takes you over a sod-roofed modern house that has been built into the landscape. The trail also includes a couple of small water crossings so expect to get your feet a bit wet and muddy. Rest assured you will not be running the pavement on this day!
The Start/Finish line will feature complimentary healthy treats from race sponsors CLIF BAR and ORGANIC VALLEY, including organic granola, yogurts and other replenishing foods and beverages. Additionally a delicious Hot Lunch, Craft Beers from Award-Winning Shoreline Brewery, and Pizza from Rolling Stonebaker are waiting for runners and spectators! Free overnight camping is available for 50K Ultrarunners. (Contact Race Director to make arrangements.)
- 50K Ultrarunners will receive a heavyweight Tryon Farm Trail ZIP-UP HOODIE Sweatshirt plus Complimentary Food and Beverages.
- 10K Runners will receive a TFT T-SHIRT and one Complimentary Beverage.
- 5K Run/Walkers will receive a TFT T-SHIRT and a PAT ON THE BACK!
- Kid Runners will receive a TFT KIDDO T-SHIRT (Kid's course is approximately 1K)
***ALL RUNNERS who complete the course will receive the iconic, hand-crafted Tryon Farm Trail FINISHER'S MEDAL!***
REGISTRATION FEES
50km registration - $60 ($70 after Mar 1)
10km registration - $25 ($30 after Mar 1)
5km registration - $20 ($25 after Mar 1)
Kids' Race registration - $10 ($15 race day)
Sign up right now at ULTRASIGNUP!
RACE DAY SCHEDULE (all times CT)
7am Registration Begins
8am 50K start
9am Kids' Race start
10am 5k and 10K start
CONTACT
Will Noonan, Race Director
will@tryonfarm.com
summer design/build studio
STUDIO 013: Sanctuary in Nature
July 13-20, 2013 (7 days!)
STUDIO WEBSITE || FACEBOOK EVENT
Tryon's public environmental non-profit organization Tryon Farm Institute is proud to present STUDIO 013, a unique architecture and landscape design/build studio coming this July hosted by a team of architects, celebrants, and special guests.
The bucolic Indiana landscape serves as our inspiration, our site, and our home for the week. You'll live on the farm, collaborate to design and make meaningful space that you create with your own hands. This is a unique, immersive experience designed for discussion, collaborative design and investigation of ceremonial place-making in the landscape.
Visit studio013.org for all event info!
Wine Tasting by Candlelight
March 23, 2013 (PAST EVENT)

Thank you for joining us in celebrating International Earth Hour in style!
Tryon's public environmental non-profit organization Tryon Farm Institute and Shady Creek Winery in Michigan City presented a unique wine tasting event by candlelight, featuring pairings of local meats and cheese.
The event was a benefit to the mission and ongoing work of the Institute to connect human and natural communities through a diverse program of education, outreach, and idea exchange. Learn more at TFInstitute.org