Tryon Farm Events
We all have favorite ways to spend our time. Tryon provides a range of public opportunities throughout the year to experience modern country living though a variety of unique events. Activities appeal to all ages and interests. Get out here and enjoy yourself!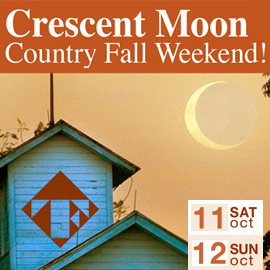 Country Fall Weekend!
Crescent Moon
Sat October 11-12, 2014
Hay bales, pumpkins and wagon rides! Stick around for a movie in the barn!
Come for one, or come for all events!
Walnut Ink Projects * Tryon Farm
Fall Painting Workshop
October, 25 2014
11am-3pm
Walnut Ink Projects * Tryon Farm have come together to create an inimitable workshop. Tryon Farm is the perfect scenery and setting for any painting enthusiast. The fields will be turning in the depth of the Fall season and the leaves will be at the peak of their foliage in color. This workshop is open to any skill level and offers and environment to let your expression race through the paintbrush and flow onto your personalized canvas.
Paint included, instruction included, libations included, four delicious food pairings, and the perfect setting all included in this one day workshop.
Tickets are $60 / person (limited availability)
Click to Register for the Fall Workshop Series, Glean or call: 219-229-5613>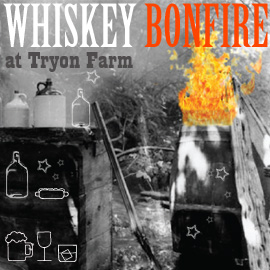 FOOD | WHISKEY | FIRE
TBD Whiskey Bonfire
October 2014
Last years Whiskeytown was such a huge success that Tryon Farm is making it an annual event. Whiskey isn't all that there'll be - count on great food and music too.
Stay tuned - details are coming!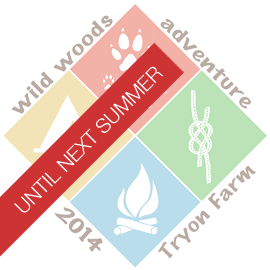 a Day Camp by Jon Hook (Scout) + Lu Hook (Wild Boy)
2014 Wild Woods Adventure Day Camp
Wed July 09 – Fri July 11, 2014 (PAST EVENT)
9:30am – Noon daily
for Boys + Girls age 9-14 (limit 12)
Register :: fb Event page
Spend three days in the woods learning how to set up a "wild camp." Jon and Lu will be instructing how to use common sense and ingenuity for basic survival skills in the woods. Survival skills like shelter building, campfire making, rope making, and knots. Learn how to build a monkey bridge. First aid skills, hiking, plant and animal identification will be part of this wild woods adventure.
Jon Hook is a wood fired ceramic artist. As an Eagle and Life Scout, he teaches his two boys, Lu (15) and Ry (17), how to live with the land and animals in harmony, with respect and gratitude.
Camp Fee: $25/day ($75 total)
Summer 2013 Wild Woods Photos
Event is sponsored by Tryon Farm Institute. Tryon Farm Institute, Inc. (TFI) is an Indiana chartered non-profit land trust and education organization with a mission to connect human and natural communities by promoting habitat diversity and sustainable land husbandry.
5k run/walk, 10k and 50k runs + Kids Race!
Tryon Farm Trail 5/10/50K Run
Sat May 17, 2014 (PAST EVENT)
Register :: fb Event page
The TRYON FARM TRAIL 5/10/50K RUN is located in Northwest Indiana - one hour from Chicago. The course is a 10k loop through rolling native prairie grassland, towering beechwoods, and sloping dunes. Approximately 60% of the course is on wooded single track that follows the existing deer path. The remainder of the trail brings you through a protected native prairie grassland. You'll run over a sod-roofed modern house built into the landscape and expect your feet to get a bit wet as you cross over a couple of small waterways.
The Start/Finish line will feature fresh, delicious, local food from Hungry Truck Inc. and Award-Winning Craft Beers. In addition, there will be complimentary treats from Valpo Velvet, CLIF BAR and Kroger.
Free overnight camping is available for 50K Ultrarunners. Contact the to make arrangements.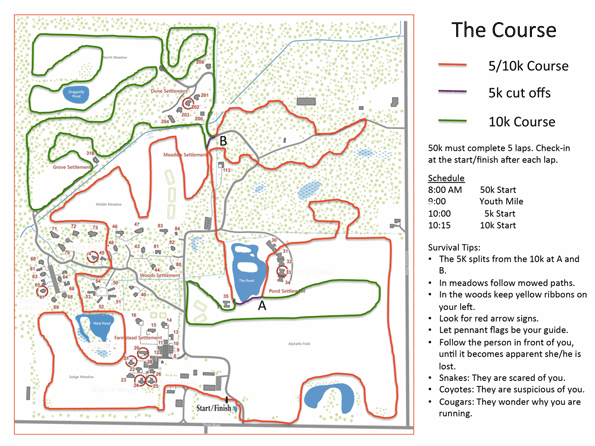 View Full size Course Map.
Past Events
Look into some of Tryon Farm's past events and see all that Tryon has to offer throughout the years. Event Archive